Vladimir Pleshakov's Excellent Adventure
One of my favorite movies of all time is Bill & Ted's Excellent Adventure. Released in 1989, this film depicts two bone-headed, California high school friends traveling through time to create a "most triumphant" history project to prevent the demise of a future world. This may sound like a crazy plot if you haven't seen the movie, but believe me, it's great. (Also, Keanu Reeves delivers the performance of a lifetime.)
Why did I start this blog post with the Bill & Ted's reference? Our upcoming concert series "Modern Russia" doesn't span that much history. In fact, much of the program was composed within the last 200 years. The reason for the reference has more to do with the excellent adventures of one of the featured composers, Vladimir Pleshakov. No, he hasn't traveled through time (Bogus…), BUT he has lived on 4 continents, performed for over 7 decades, released over 85 premiere recordings, AND started composing music at the age of 75 with his works just having premiered at Carnegie Hall in January. (Excellent!)
Let me map out his adventure for you…
First Stop: China 1934 – Mr. Pleshakov was born in China to Russian parents who had fled their home country during the Revolution. It was here that he was first exposed to sacred Russian music in the nearby Shanghai Cathedral, where he was a featured vocal soloist as a boy.
Second Stop: Australia 1949 – When his family moved here, he studied piano at the New South Wales State Conservatorium of Music and within a year, he was making his debut, at 16, as a piano soloist with the Sydney Symphony.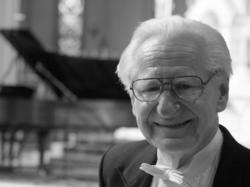 Third Stop: United States 1955 – His family moved once again; this time to the USA. This move allowed Mr. Pleshakov to experience some of that Bill-&-Ted-California lifestyle while earning degrees from University of California, Berkeley (B.S. in Piano Performance) and Stanford University (DMA in Musicology).
Fourth Stop: Europe 1999 – He and his wife, Elena (also an accomplished pianist), lived in Europe for 10 years and traveled the continent as recitalists, even making a few visits into Russia itself.
Fifth Stop: New York 2012 – After surviving a bout with cancer, Mr. Pleshakov felt a divine calling to compose choral music. This was quite the feat as he had never composed music before. He said, "It was like a radio in [my] head which produced perfectly completed sacred choral music." Just this past January, his works were premiered at Carnegie Hall in New York City!
Next Stop: Phoenix 2012 – On May 5 & 6, 2012, the Phoenix Chorale will perform several of Vladimir Pleshakov's works for the first time west of the Mississippi, in their final concerts of the season, "Modern Russia". Mr. Pleshakov will be at each of the concerts and be featured at our Saturday evening KBAQ 89.5 FM Pre-Concert Talk at Trinity Cathedral. Other composers featured in the concerts include Stravinsky, Sviridov, Glinka, and more.
If that's not a most excellent adventure, I don't know what is!
Tickets for these concerts are available by calling (602)253-2224 or at www.phoenixchorale.org/tickets.
Oh yeah, one more thing…
-Benjamin Little, Marketing and Public Relations Intern